5 g pouch
100 per box
Big pain relief does come in small packages — Helix is sized for sampling at point-of-service.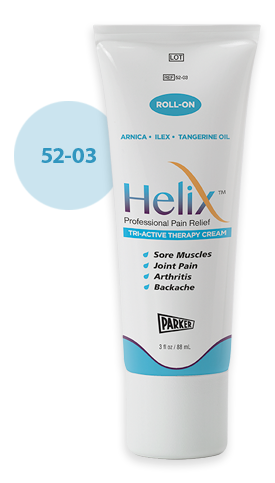 3 fl oz (88 mL) roll on
For use during treatment, and for sale to patients at point-of-service – fast, penetrating Helix pain relief delivered with the ease and convenience of a roll-on applicator.
4 fl oz (118 mL) tube
Cooling, soothing Helix pain relief for use along with treatment and sized for patient purchase at point-of-service.
Starter Kit
An attractive presentation with everything you'll need to showcase Helix.
The kit comes complete with:
Display merchandiser
5 g pouches (52-01) 1 box
3 fl oz roll-on (52-03) 1 box
4 fl oz tube (52-04) 1 box
50 patient information booklets